Print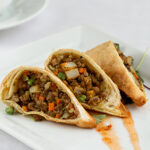 ---
Description
Traditional samosa filling, deep-fried until crispy and served with chili soya sauce and mango chutney.
From the 2018 Student Chef Competition hosted by Ontario Sheep Farmers and Mushrooms Canada. Recipe by Fleming College, Chef Steve Benns, Kayla Daluz, Prabhakar Athinarayan, and Om Patel.
---
Samosa:
2

oz

peas

2

oz

carrots

2 tbsp

canola oil, divided

4

oz

potatoes
Cabbage spice, to taste

6

oz

cremini mushrooms

4

oz

cabbage

1

lb

ground lamb

1/4

bunch coriander

1

jalapeño, finely diced

1/2

red onion
Garam masala, to taste
Salt, to taste

2

oz

sugar

8

tortillas

1

oz

flour
Sauce and Garnish:
2

oz

Thai chili sauce

2

oz

mango chutney
Micro greens
---
Instructions
Blanch peas and carrots in salted water until tender, cool in an ice bath and reserve.
Heat canola oil in a stainless steel pot and fry the potatoes until cooked but not golden, low temp.
Add oil to pot and add cabbage spice, mushrooms and cabbage to the pot, over high heat, until all water is out of cabbage or volume has rendered to half.
In a different pot add the ground lamb, coriander, jalapeño, and onion. Sauté until lamb is cooked.
Adjust the seasoning and allow ingredients to cool; add sugar.
Make a paste with flour and water.
Cut the tortillas in half and form cones.
Fill the cones and close them, sealing with flour paste.
Deep fry 340ºF until golden brown; serve with sauce and garnish.
---